Three Rand Aid Association employees from Wedge Gardens were recognised at the NPO's long service awards on August 23.
Since Rand Aid implemented the awards 13 years ago, 1 019 awards representing 9 685 years of service have been handed out.
At this year's awards, 32 staff members were recognised for a combined 305 years of service, ranging from five years to 10, 15, 20 and 25 years.
"I thank each staff member for the devoted service they give to Rand Aid and its residents," said Rae.
The awards were presented by John Robinson, the chairman of the Rand Aid board.
The Wedge Gardens recipients were Patrick Mahlelehlele and Paul Swanepoel for 20 years; and Roland Chapman for 15.
Patrick Mahlelehlele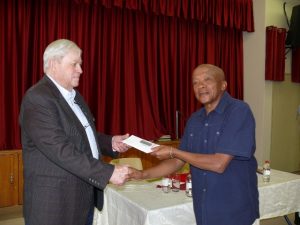 Patrick started off as a Reid A orderly. He then became the laundry attendant at Wedge Gardens and also did escort duties to hospitals. He is a very quiet, even-tempered guy who does what is expected of him. He enjoys his sport channels.
Paul Swanepoel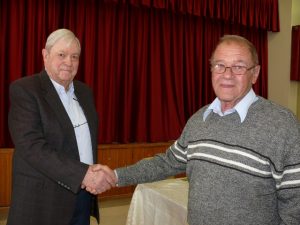 Affectionately known as 'Grumpy, Paul is a very hardworking plumber and builder who is always on duty and always ready to assist residents and staff alike. He is an all-rounder who knows every nook and cranny in the village… every geyser and every lock and all the blockages!
Paul takes great pride in his work and prefers to manage call-outs to Elphin Lodge himself rather than leave things to the after-hours team. He's never been concerned about his weekend being disrupted by blockages or breakdowns.
A man happy in his work and always concerned about village and care centre maintenance issues, he never knocks off without checking that no urgent jobs remain.
Paul's not a smiley man but he is direct, competent and, under the gruff exterior, a very caring man.
Roland Chapman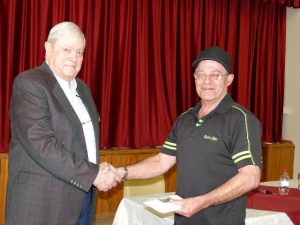 Roland started off being an orderly in Reid B on the old premises and when it changed to the Ibis ward he took charge of the kitchen in the ward. The ladies back then loved him and enjoyed being served by him.
He then moved into the store where he is still today. Roland does an awesome job and is extremely helpful. He always has a joke or two up his sleeve and loves teasing whoever crosses paths with him.  He is well known and loved in the organisation.