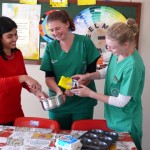 Since 1943, Wedge Gardens Treatment Centre, which operates under the auspices of Rand Aid Association, has been helping people with addiction problems retake their rightful place in society.
Today, Wedge continues to ensure that its residents receive holistic care, which includes a strong focus on occupational therapy. This ensures that once the addiction itself is under control, people have the necessary skills to help them cope 'out there'.
Fired up and full of new ideas is the centre's new occupational therapist Zainab Badat, who joined Wedge's counselling team in January.
Adél Grobbelaar, the head of Wedge Gardens, believes that occupational therapy should really be called functional therapy. According to her, the goal of occupational therapy is to make sure an individual is as functional as possible to engage as fully as possible in their lives.
Through a process of interviews and comprehensive assessments, intervention is directed at treating the client to promote rejuvenated, healthy lifestyles and to provide learning opportunities to attain skills for daily living. Insight sessions, which assist the client in understanding addiction, are also held and clients are taught the coping skills needed to master their addiction.
Badat says she has prioritised the empowerment of residents to facilitate their reintegration into the community. "I focus not on their limitations but on their strengths," she says.
One of her initiatives is the Wedge café, which is held every second Friday. The idea behind the café is to identify some of the Wedge patients in need of vocational training and create a fun, interactive platform for this. The residents who take part in this initiative are on Level 2 of Wedge Garden's full circle programme. Level 1 residents are those undergoing detoxification while Level 3 are nearly ready to reintegrate with society and thus their OT concentrates more on preparing them for the world of work, including CV and job interview preparation skills.
Various skills are imparted to Level 2 residents through the Wedge café initiative, from marketing (getting customers and orders), organisational (menu planning and grocery list) and interpersonal skills (waiting tables and dealing with customers) to time management and goals (meal preparation).
In addition, residents are graded through the Just Right Approach, which ensures that each person is able to play a part in the café that caters to their strengths. Grading assists residents to track their own growth and development.
Before joining Rand Aid, Badat worked in the Acute Psychiatric Ward at the Steve Biko Academic Hospital. She did her community service at the Charlotte Maxeke Johannesburg Academic Hospital and completed her studies at Wits.
For more information, contact the Wedge Gardens Treatment Centre on 011 430 0320 / 071 690 4942 or visit Wedge Gardens on Facebook at www.facebook.com/WedgeGardensTreatmentCentre or follow them on Twitter @WedgeGardens.