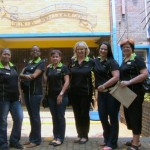 Gustav Preller Primary School pupils enjoyed an interactive visit from Wedge Gardens Treatment Centre on Tuesday, September 27.
The West Rand school invited the rehabilitation centre to do a drug information talk with the Grade Seven students.
"We showed them a video on the different drugs and what they can do to you and then we divided the learners into small groups so that interactive talk sessions could be held.
"We have found that with smaller groups, counsellors can more easily target the shyer children and afford them an opportunity to ask questions," says Adèl Grobbelaar, the head of the Rand Aid-run treatment centre.