The 2022 SANCA 'Kick your Habit' campaign takes place from 20 to 26th June.
The campaign aims to raise awareness about the complexities of addiction and dependency, and seeks to spread awareness through experience, challenging people in our communities and across the country to give up one thing for a week and experience, albeit briefly, what a substance-dependent might go through in treatment.
Experience leads to education, which is the campaign's ultimate goal. It is entirely up to the individual whether this 'thing' is caffeine, tobacco, chocolate or even shopping. However, it's important to think about your choice and select a daily habit.
It is recommended that you keep a daily log or even an online blog of your progress, as this will increase awareness of the difficulties that dependents face daily. It's up to you whether this daily log is public or private, as long as you engage in the challenge.
This year's challenge is accompanied by SANCA's 'Design a Detox Shot' competition where you can stand a chance to win a prize. SANCA is encouraging all South Africans to take part in the challenge and challenge one another throughout the week. Purchase a Bandana from your local SANCA to show your support.
We are one step closer to lowering the incidence and rates of substance use in our country by raising awareness of the difficulties associated with substance use and misuse. As citizens of this country, it is our responsibility to work together to ensure a brighter future for the next generation.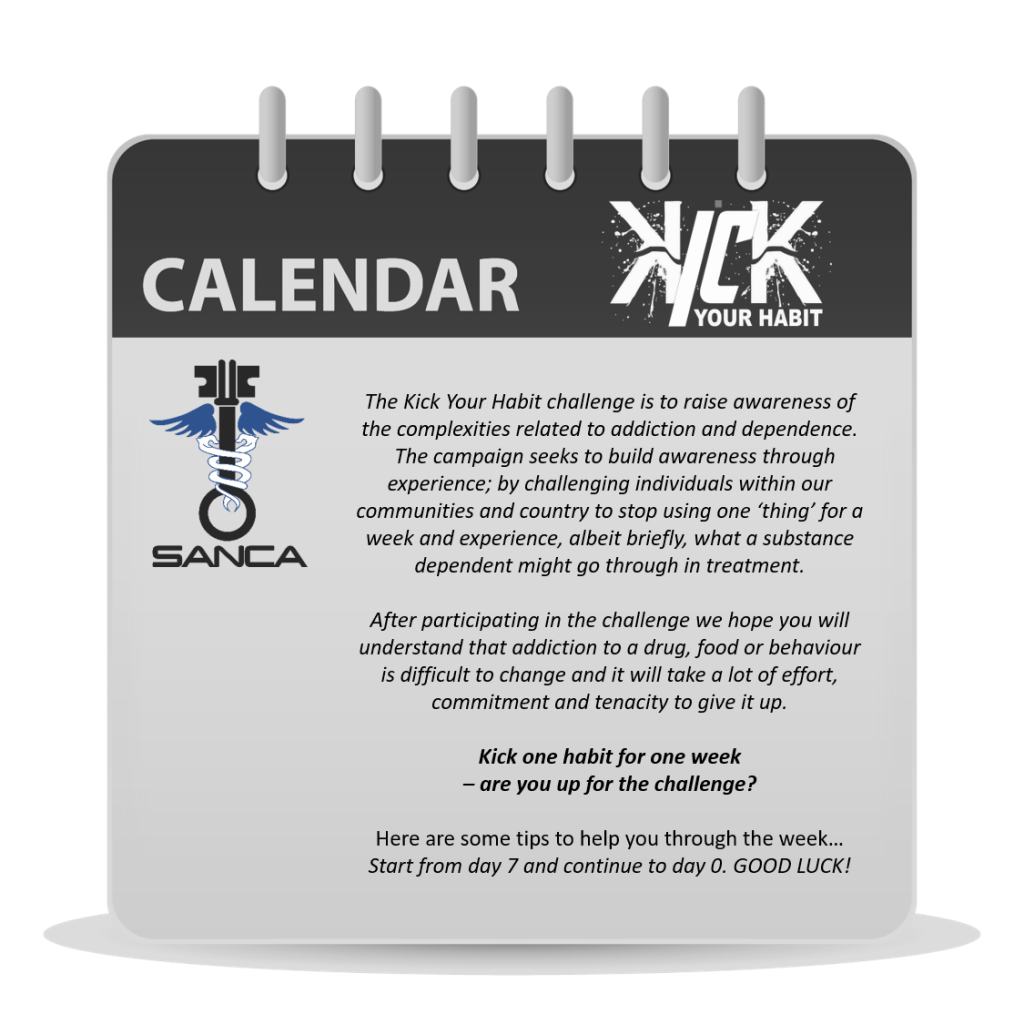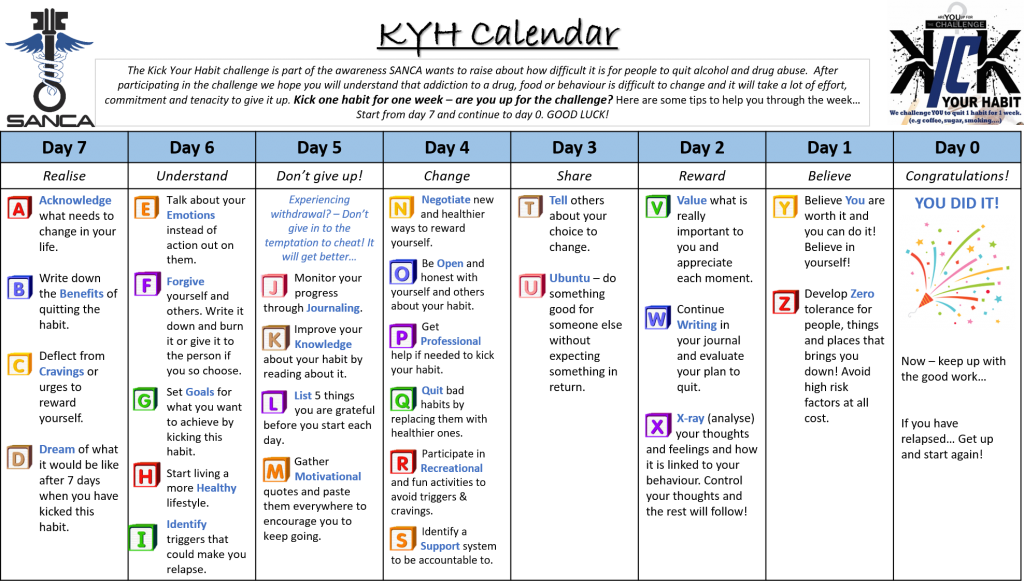 40% increase in substance use 2030
According to the latest world drug report released by the UNODC on June 24, 2021, Africa will see a 40% increase in substance use and misuse by 2030 due to population growth rates.
Only one in every seven people has access to treatment. Drug and alcohol dependency are tearing apart the fabric of South African society and are frequently linked to other societal issues (such as violent crime, gender-based violence, child abuse, and rapidly increasing HIV/Aids incidence rates).
According to statistics from 2017, South Africa has the highest prevalence of Foetal Alcohol Syndrome Disorder (FASD) in the world, with a prevalence rate 14 times higher than the global average. South African youth are especially vulnerable to substance experimentation and long-term use (whether it be alcohol, illicit drugs, or even over-the-counter and prescription medication). The cost to the country is not only measured in Rands, but also in fallen creativity, innovation, artistry, and talent, to name a few. We all have a responsibility to protect our country's youth and future by setting aside our differences and forming real partnerships to prevent this from happening.
The Kick-Your-Habit campaign aligns with the UNODC's International Day Against Drug Abuse and Illicit Trafficking on June 26.
The General Assembly decided to observe 26 June as International Day Against Drug Abuse and Illicit Trafficking by resolution 42/112 on December 7, 1987 as an expression of its determination to strengthen action and cooperation to achieve the goal of an international society free of drug abuse. This global observance, which is supported each year by individuals, communities and various organisations all over the world, aims to raise awareness of the major problem that illicit drugs pose to society. The Kick your Habit campaign has been running for five years and is SANCA's way of reducing the stigma associated with people who use/misuse substances by 'walking a mile in their shoes'.
This year's theme is 'Addressing drug challenges in health and humanitarian crises'.
This is especially pertinent in light of the Covid-19 crisis we faced as a global society, which put the spotlight on the relationship people have with substances, particularly alcohol and tobacco products when their sales were prohibited.
In-depth research conducted over the past 20 to 25 years has accelerated the shift toward a more scientific understanding of substance use disorders as medical and mental health conditions. The demand for evidence-based methods to effectively prevent and treat substance use disorders is not only the focus of SANCA, but of all services in this sector.
For more information about SANCA Wedge Gardens' Full Circle Recovery Programme, employers can contact Adèl at 011 430 0320 or visit www.wedgegardens.co.za.